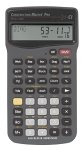 Construction Pro's - the Construction Master Pro
Books - Architectural Standards
Architectural Standards

Time-Saver Standards for Architectural Design Data : Single User Version
by Donald Watson

CD-ROM 7th Cd-rom edition (June 16, 1999)
McGraw-Hill
ISBN: 0071347593


From Book News, Inc.
The latest version of the venerable reference first published in 1946 and most recently in 1982. Considers such aspects as bioclimate design, life-cycle costing, the building shell, architectural ethics, superstructure, acoustics, construction materials technology, daylighting, environmentally responsible design, and evaluating building performance. A special section features design data formatted according to the Uniformat II classification system, offering easy access to preliminary design and specification by building component, assemble, and place in the system of construction. Useful for any professional in the architecture, design, or construction fields. Book News, Inc.®, Portland.

Book Description
Numerous interactive elements created expressly for this CD, including tables, calculations, and spreadsheets; examples include bioclimatic data, cost estimating, and lighting. Extensive indexing allows instant search on any topic; MasterFormat, UNIFORMAT, and Sweet's cross-referenced. Enhancements include color photography, icons, and other elements and internet links (to Sweet's and updated information, among others). Mac- and PC-compatible.